Dr. Strange 49: This Menace Reborn
by Roger Stern, Marshall Rogers & Terry Austin


#49 is already a marked improvement, with an iconic cover by Rogers and a gorgeous splash-page. With only one issue under their belt, the artistic team of Rogers and Austin were establishing themselves as one of the pre-eminent artistic pairings on Dr. Strange.
The issue opens with Doc indulging in a tantric exercise with Clea (quite risqué for those times) and then patrolling the adjacent mystical dimensions to make sure nothing is amiss. It's a powerful opening sequence in which Roger Stern wisely refocuses on the wondrous worlds of magic and mysticism and Doc's role as sorcerous guardian, the elements which made the mag so unique.
The inter-dimensional scenes are seriously weird, as they should be and pleasantly reminiscent of Steve Ditko, while also being uniquely Rogers.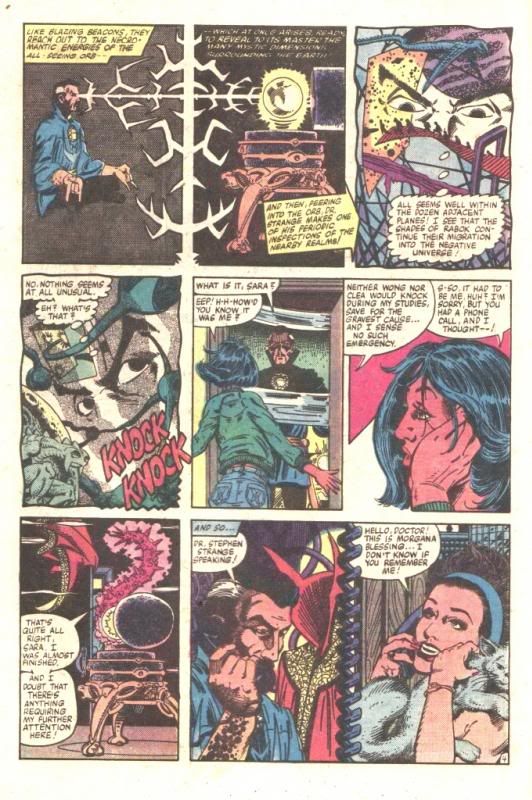 Doc's mystical investigations are interrupted by mundane affairs, as Morgana Blessing rings inviting him for lunch. Rogers depiction of Morgana lounging on her easy chair, lying on her back, with her legs up in the air, cradling the receiver under her chin, are delightful, fleshing out Morgana's frivolous, ebullient personality more than a thousand words could. Perky and frivolous she may be but the lady also has a serious side to her and she is not just a mindless ditz. And as cute as Clea was in a fey-like way, Morgana oozed sex appeal.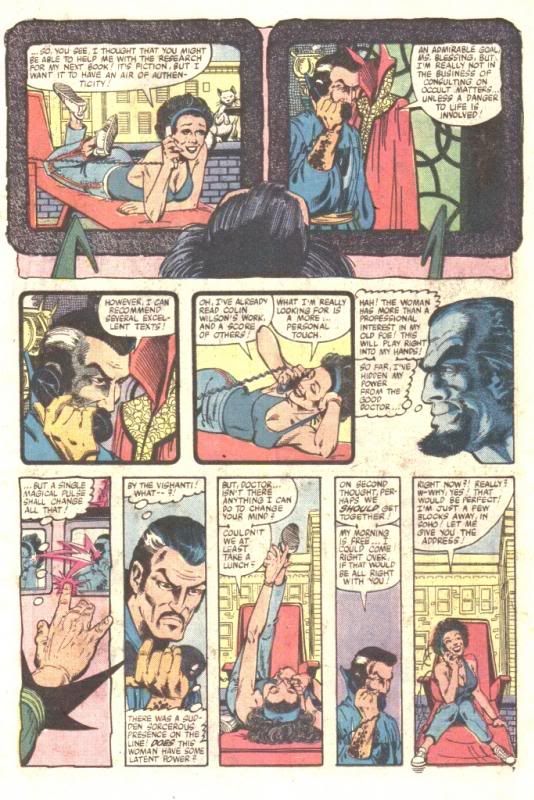 At first Doc is reluctant to accept her invitation but a burst of mystical energy over the phone lines makes him reconsider. The magical jolt comes from the baddie of the piece, Doc's old rival and Dormannu's loyal lackey, none other than Baron Mordo and he is more deliciously maniacal than ever. Rogers perfectly captures the gleam of madness in his eyes and his near-slavering sense of greatness.
Doc arrives at Morgana's apartment and they exchange pleasantries.
Rogers brings a sense of style to the strip, which is evident in Morgana's appearance, her trendy, stylish apartment and Doc's elegant white jump suit.
Suddenly, Mordo bursts on the scene, shattering the growing intimacy between Doc and Morgana and what follows is a mystical battle beyond compare in which the borders of reality and sanity melt like hot wax.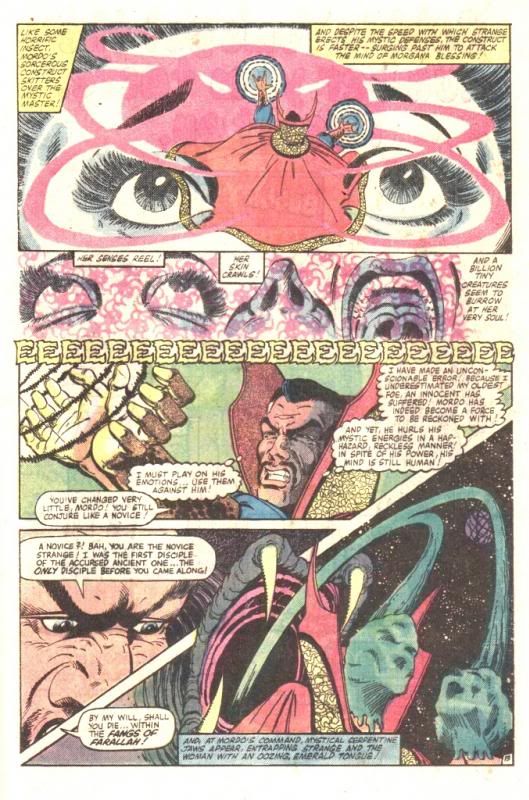 Rogers really goes to town on this, producing some of the most awesome mystical action since Frank Brunner.
The colour overlays continued to enhance the artwork and give it special, otherworldly quality, although not all the
experimentation was equally successful. Sometimes the colour overlays were too intrusive and virtually obscured
the artwork but whoever was responsible was to be commended for their efforts. It really made the artwork shine.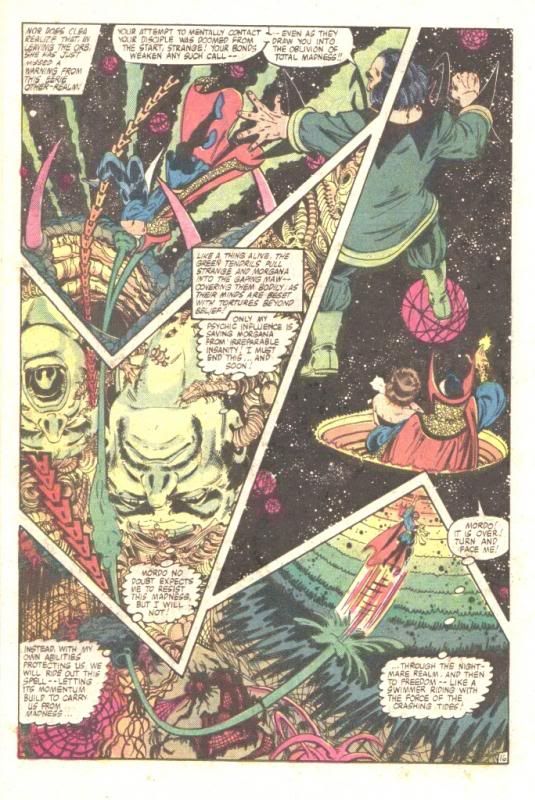 Doc finally sends Mordo a running.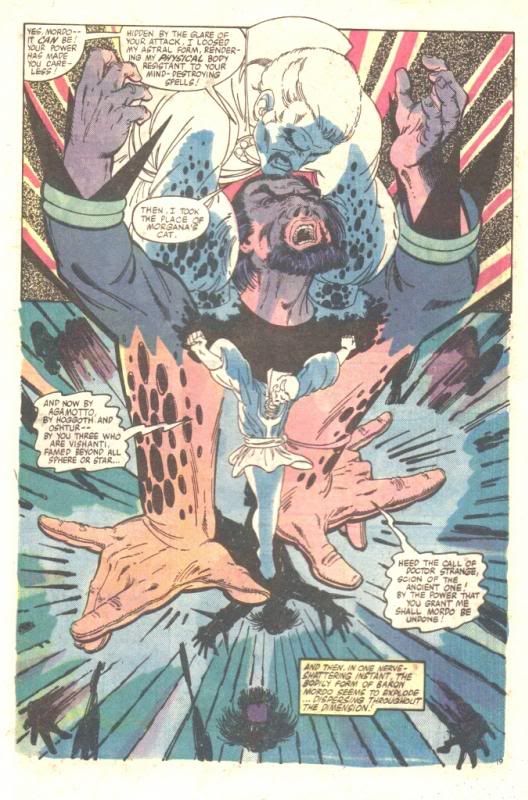 Doc tries to erase Morgana's memory of the startling events but to his surprise her mind resists his spells and she retains a vague recollection of what transpired. There is more to Morgana than meets the eyes. The issue ends on a chilling note with Morgana gazing down from her balcony at Doc's receding figure while petting her white cat, Magellan, whose eyes reflect the same diabolical glint as Baron Mordo's.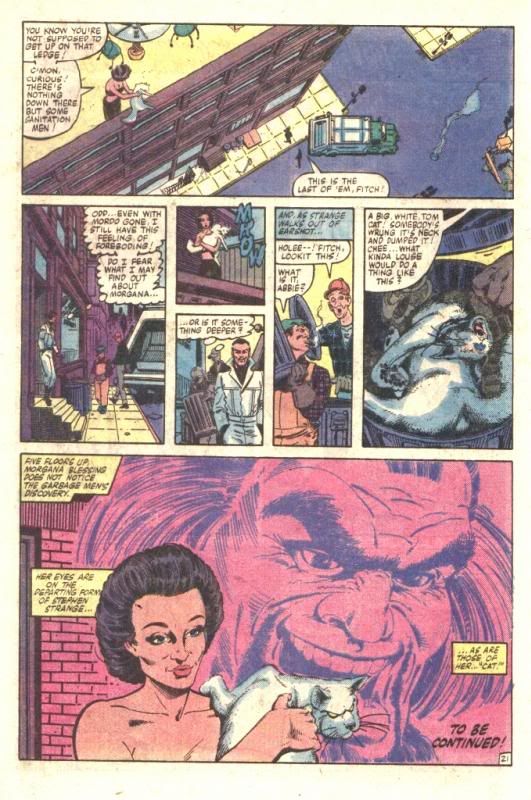 It was a great issue, particularly after last issue's rather pedestrian start.